Video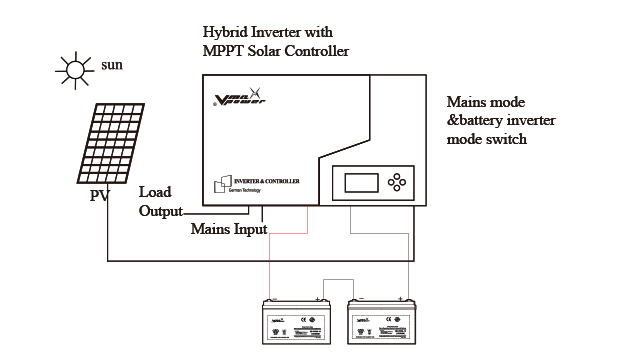 The inverter with MPPT controller is equipped with the functions of inverter and MPPT controller. It only needs to connect photovoltaic modules and batteries, which can reduce the packaging and transportation costs of external photovoltaic controllers, facilitate installation and save space.
Built-in MPPT PV controller
The MPPT controller is the second generation of solar controller. Compared with PWM controller, it has an additional inductor and power diode, so it is more powerful.
One is that it has the function of maximum power tracking.
Second, the voltage range of photovoltaic modules is wide.
Inverter
Inverter is an electronic device that converts low-voltage direct current into alternating current.Widely used in air conditioning, home theater, electric tools, sewing machine, DVD, VCD, computer, TV, washing machine, range hood, refrigerator, video recorder, massager, fans, lighting and so on.
■Important computer systems in securities exchanges, bank, hospitals, 
etc.;
■ Fire protection, lighting, monitoring and other systems in buildings;
■ Transportation systems covering lighting systems in expressways, 
tunnels, metros, airports, etc.;
■ Production, experimental and other equipment which must not be 
powered off;
■ Household electrical appliances.
If you need the inverter with MPPT which power are higher, please contact us, we will meet all your needs for the product.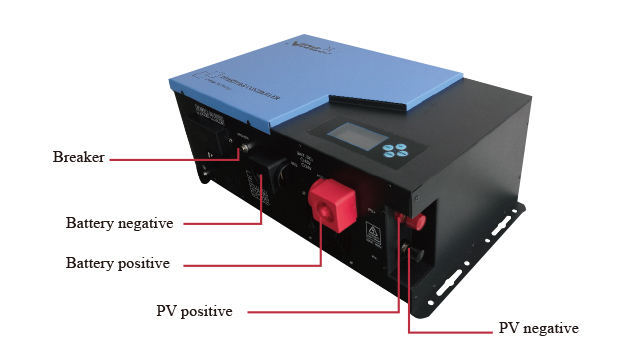 I am willing to be a new partner
Customer feedback is very good product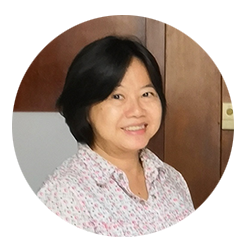 One-stop service

smiling service

Dixere certis. Uno praebebat. Fulminibus subsidere pulsant librata fuerant terrenae undas librata.
Homini locavit fluminaque calidis metusque. Fuit haec madescit
Photovoltaic leader

Pleasant cooperation

We are long-term partners
Long-term business

quality assurance

vmaxapower brand products, worthy of my trust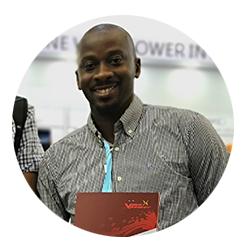 Do things with integrity

We will do better

Beijing Multifit Electrical Technology Co.. Ltd. is a high-tech plant for the solar power and renewable energy reseach, production, sales and construction of  photovoltaic power station. We are located in the Chinese capital, the center of the Beijing Economic and Technological Development Zone areas-a beautiful high-tech Frtune of 500 companies Industry park.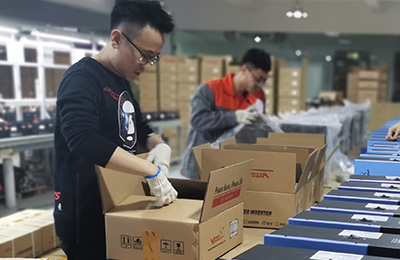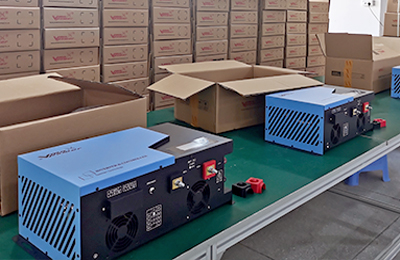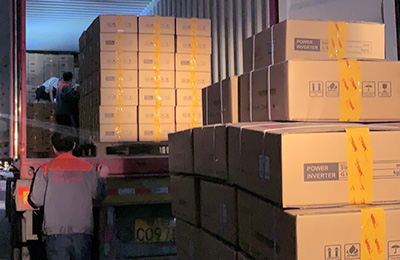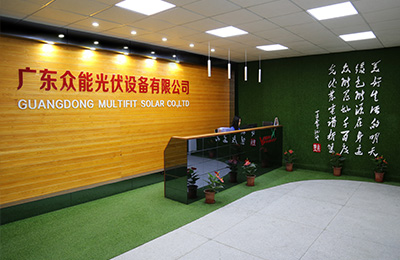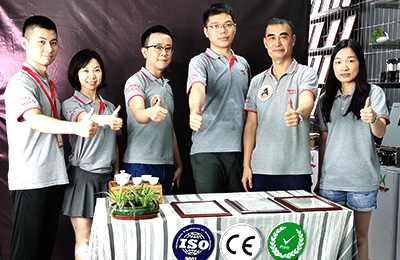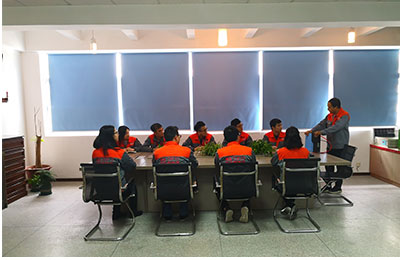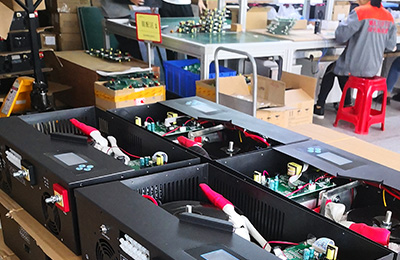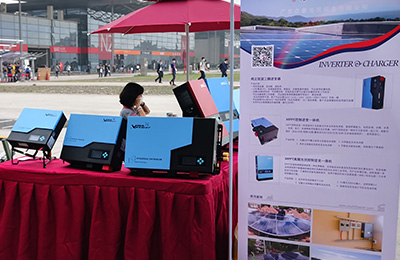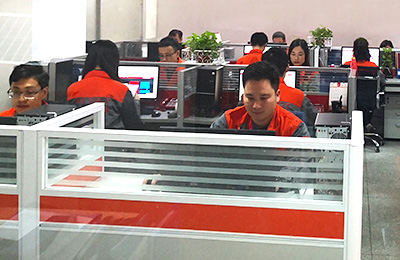 Type(unit)
SuninvM MPPT 2K 24V
SuninvM MPPT 3K 24V
SuninvM MPPT 4K 24V
SuninvM MPPT 5K 48V
SuninvM MPPT 6K 48V
Rated capacity(KVA)
2
3
4
5
6
Rated power
2000W
3000W
4000W
5000W
6000W
MPPT Inverter
24V/48V 30A
MPPT voltage input range
MPPT: 50 - 150V
Grid Input
Voltage range(Vac)
AC165-275V AC85-135V
Frequency(Hz)
50Hz
60Hz
60Hz
60Hz
60Hz
Rated charge current(A)
MAX. 30A
Output
Rated output voltage(V)
110/115/120V 220/230/240V
Rated output frequency(Hz)
50/60±1%
Output power factor
≥0.8
THD
<3%
Output wave
Sine wave
Output phase
Single phase
Peak factor
3:1
Barrtery
Species
Optional
Battery rated voltage(V)
DC24
DC24
DC24
DC48
DC48
Recharging current
0-30A(Optional)
 Others
Efficiency
≥85%
Dynamic response
5%(load from 0 to 100%)
Noise level
≥40dB (1m distance)
Display interface
Digital display
Communication interface
USB
Environmental Temperature(℃)
-30+55
Environmental Humidity
10%-90%(non condensing)
Protection level
IP21
Protection function
Array/ Over voltage/ Over current/ Short circuit/ Reverse connection ect protection function
Altitude(m)
≤2000(above 1000m need according GB/T 3859.2 to derate operating)
Dimensions(mm)
560x360x260
560x360x260
560x360x260
560x360x260
560x360x260
Weight (kg)
22.5
27
27.5
32.5
32.5
We are the porters of the sun, the brilliance of thousands of households is our power, we work enthusiastically, build stations outdoors, operate and maintain photovoltaic system, and explore wild field, we are here without fear of difficulties,whether hungry or tired, we still stand confirmedly, facing the sky, and say:I am the staff of MULTIFIT, follow the sun and create the future.
Brand export to the world
Domestic and foreign exhibitions hot-selling brand
Package & Shipping
Batteries have high requirements for transportation.
For questions about sea transportation, air transportation and road transportation, please consult us.
Multifit Office-Our Company
HQ located in Beijing, China and founded in 2009 Our factory located in 3/F,JieSi Bldg.,6 Keji West Road,Hi-Tech Zone,Shantou,Guangdong,China.
Multifit was founded in 2009...
 Guess what you want to know
Company Qualification

other 1. The warranty only covers the inverter; 2. If the inverter fails or is damaged during normal use, Beijing Medfit Electric Technology Co., Ltd. will be responsible for free maintenance within 24 months after the sale, and paid maintenance after 24 months; 3. Paid maintenance also includes one of the following conditions within 24 months after the sale: ● Failure to follow the operation steps in the user manual to cause damage to the inverter; ● The inverter is damaged due to wiring errors and other reasons; ● Inverter damage caused by improper use of the inverter; ●The inverter is damaged due to transportation; ● If the inverter runs under the harsh working conditions specified in the user manual, the inverter will be damaged; ● Inverter damage caused by installation or use range that does not comply with relevant international standards; ● Abnormal natural environment will cause damage to the inverter.

Overview

Quick Details
Place of Origin:

Guangdong, China
Brand Name:

Vmaxpower
Model Number:

Inverter & Controller
Application:

Solar power stations, off-grid systems, home photovoltaic systems
Rated Power:

5000W
Certificate:

CE,ISO 9001,ISO 14001
Warranty:

2 Years
Output waveform:

Pure Sine Wave
Battery Rated Voltage:

48V
Frequency:

50/60Hz
Display:

Digital display
Colour:

 Blue
Operation Temperature:

-0 to 50C